The Advertising Association, the IPA and ISBA will present RENEW 2022 on 27 January 2022, at the Odeon Luxe Leicester Square, London.
The event, a unique opportunity for all constituent parts of UK advertising to come together, in-person and online, will explore what advertising needs to do meet the challenges of this decade and how the industry can help the UK succeed, domestically and on the world stage. RENEW 2022 follows the success of RESET 2021, the associations' first joint industry conference for UK advertising which attracted over 600 attendees and which has been shortlisted for Best Virtual Event at the Association Excellence Awards.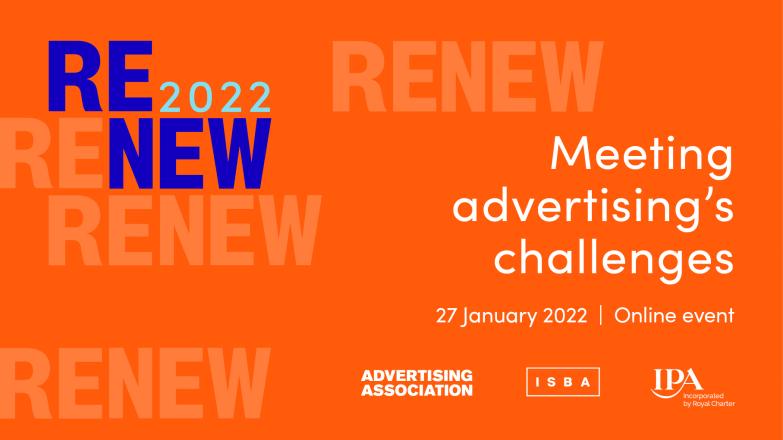 RENEW 2022 will take an informed look at the decade ahead from three vital perspectives:
Responsibility – what are the new expectations of advertising emerging as this new decade unfolds and how does advertising answer these?
Experience – how is the advertising experience changing with advancements in technology and what will this mean for the ways advertising can connect with the public?
Action – what are the critical areas where we need to see advertising make rapid progress and how can every advertising professional help to make a real difference?
A heavyweight line-up of speakers from the business, political and advertising landscape will join the associations' three Presidents to shape the industry's focus for the decade ahead. RENEW 2022 will run in-person and online from 9am-1pm, with discounts for members and under 30s.
Tickets are available now. RENEW 2022 replaces the Advertising Association's LEAD conference and ISBA's Annual Conference in the 2022 events calendar.