At JICMAIL, the Joint Industry Currency for Mail, we spend our time helping users extract maximum value from this important gold standard audience research data. 
Always looking to improve our support, we know from subscribers that our tools and training are overall, well regarded. Our last survey indicated that 88% of users agreed that JICMAIL added credibility to their campaigns and recommendations, with 86% agreeing training and support. 
We're also aware that in time-pressured working routines, just getting started with something unfamiliar can often present a mental hurdle. 
The good news is that once complete and bolstered by achieving their own personal use case with the data, it's clear that confidence and capability grows exponentially. Now that the JICMAIL Levy is opening-up access to our data for new audiences, we recognise the need to ensure potential early usability frictions are reduced and so we have launched JICMAIL Essentials.
    
Designed to be an entry-level data tool, JICMAIL Essentials provides the essential or baseline metrics and insight to support the planning for every mail campaign whatever the size, and for all participants involved regardless of specialism. 
Importantly, the tool is available for all including non-subscribers. For subscribers, the access to the core data carries no cost but it does require organisations to sign a data agreement and agree to a simple training or adoption plan. However, Essentials is available to anyone who can access the tool without necessarily working for a subscriber organisation. This will still provide them with a set of core JICMAIL metrics for their campaign and a suite of JICMAIL insights for immediate use.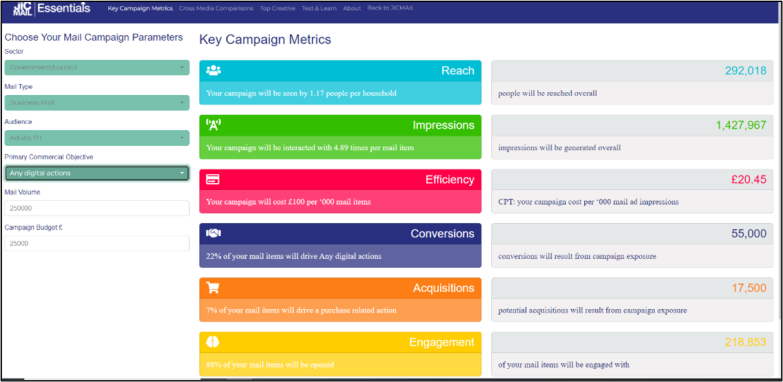 JICMAIL Essentials offers a simple user interface and a basic set of campaign inputs such as your industry sector, mail type, target audience and objective It also includes a slider to select campaign budgets and mail volumes. The outputs and metrics you can expect include;
The number of people you can expect your mail campaign to reach, that is, the number of people who will have an opportunity to see your campaign and the overall impressions delivered (total number of people who will see and interact with a campaign).  
How cost efficient your campaign will be based on cost per '000 mail ad impressions, a key measure of cost efficiency and comparable to other media channels.
What impact your campaign will have on your business with measures such as the number of consumers or customers who will be delivered against your key commercial objective (selecting one or clusters, of up to 12 commercial actions captured by JICMAIL) 
What creative best practice looks like for mail campaigns (showcasing Mail items with high interaction rates and/or commercial actions by industry category)
How to create scenarios for A/B testing to optimise mail campaign performance with ideas inspired by JICMAIL insight
The reward for 'first-timers' is to gain foundational campaign measures and insights at no cost. 
There is of course, plenty more to explore and uncover from JICMAIL, and for subscribers, self-serve and bespoke training is offered through our primary access tool, JICMAIL Discovery and the JICMAIL Academy learning platform. Getting started on your journey with JICMAIL is a critical moment and JICMAIL Essentials is available as a fast and easy start (access here: https://essentials.jicmail.org.uk/) .
We are now encouraging all mail channel participants to share this new tool, to bring it into planning routines and encourage overall participation with the mail industry's JIC data, particularly for groups not so familiar with the benefits of industry wide and accepted measures. 
As we need to navigate through an ever more complex media ecosystem, utilising the 'radar' towards improved effectiveness offered by gold standard data such as JICMAIL, is more important than ever, and JICMAIL Essentials is available now for inclusion in every campaign featuring mail, and within every recommendation.