The UK Advertising industry's first Census, organised by the Advertising Association, the IPA and ISBA, takes place today with hundreds of organisations across agency groups, brands, media owners and tech platforms asking their staff to take part. Professionals from organisations including Asda, British Airways, Channel 4, Dentsu, Facebook, Google, GSK, Havas, NatWest, Omnicom Media, ITV, Sky Media, Publicis Groupe, P&GUK, Specsavers, Spotify, Tik Tok, Tui and WPP will be invited to share information in the fully confidential and aggregated industry census which is being managed by Kantar. Many of the leaders who have pledged support to the All In Census are reinforcing their commitment by giving staff 30 minutes to complete the survey and reflect on the need for greater inclusion in the workplace.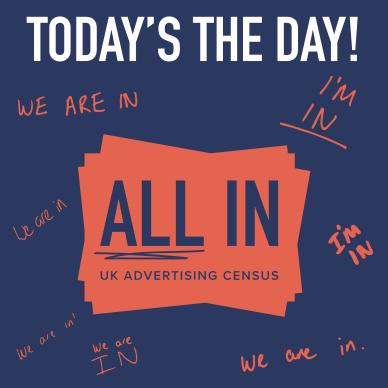 All UK advertising and marketing services professionals are invited to take part. It is available to fill in here on the Advertising Association's All In page.
Participation in the Census is being encouraged through wide-spread promotion across the industry, including a pro-bono ad campaign delivered by Twitter UK and distribution via the industry's trade associations including the AA, IPA, ISBA, DMA, IAB UK, Outsmart, NMA, PPA, APA and AOP.
Creative Industries Minister, Caroline Dinenage, said: "It is vital that our creative industries reflect the diversity of their audiences and provide an inclusive environment for our world leading talent to work. I'd like to encourage everyone across the advertising industry to take a moment to participate in this important initiative."
Bobi Carley, Head of Media and Diversity and Inclusion lead, ISBA, said: "This is an opportunity for everyone in the industry to have their voice heard and for everybody to aid shift the pace of change. Your contribution will help us create a truly diverse and inclusive industry. Thank you for being All In."
Sharon Lloyd Barnes, Commercial Director, Advertising Association and member of the Inclusion Working Group, said: "The response to All In has been incredible since we launched the campaign at RESET 2021. It reflects the industry's commitment to Inclusion and Diversity and an understanding that we need to work together to create the inclusive workplace we all want. We're delighted that CEOs and MDs across our industry are personally committing to sharing the link with their staff today."
Leila Siddiqi, Associate Director, Diversity, IPA, said: "Our ambition with today's All In Census is to create a single source survey on diversity and inclusion across all UK advertising and marketing services professionals. For the first time we will have data on certain strands in the D&I spectrum which we don't have much data around currently - such as disabilities, sexual orientation and social mobility. We urge you to encourage your teams and colleagues to join in today, as the accuracy of this data depends on how many of you are All In."
The aim of the Census is to establish the very best record of the make-up of UK advertising's workforce and a vital benchmark for progress. The results will be used to inform an Action Plan to be launched at an industry summit this summer addressing how greater inclusivity across all areas of the industry's talent will be achieved.