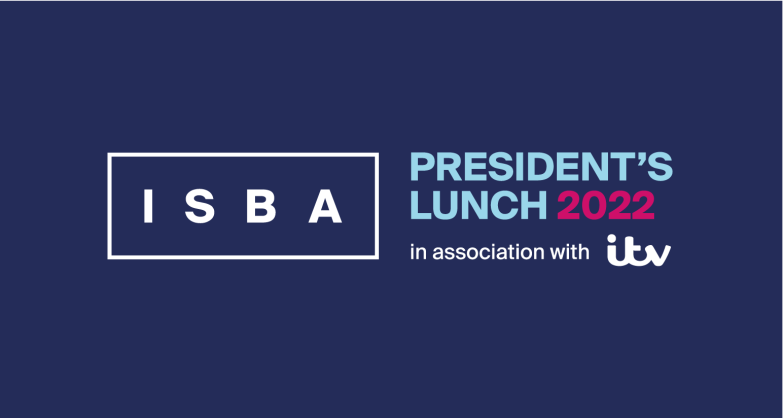 ISBA President's Lunch 2022
Save the date for the ISBA President's Lunch, 12.30pm,  Tuesday 5 July at the Sheraton Grand London Park Lane.
We are delighted that after a two year hiatus due to the COVID-19 pandemic, the ISBA President's Lunch (formally ISBA Annual Lunch) is back, on Tuesday 5 July 2022.
The lunch, in association with ITV, is a highlight of the annual advertising calendar, and aside from great food, wine and entertainment, the ISBA President's Lunch is one of the best networking opportunities in the industry.
Our guest speaker this year will be Mary Nightingale, Presenter and Journalist at ITV News. Outgoing ISBA President Peter Duffy will be speaking, and we will also be introducing our President-elect. 
This event is open to ISBA members, and non-members.
Ticket prices:
Members:     £175 + VAT
Non-members:     £240 + VAT
***Early bird table offer: book a table for ten, pay for nine***
To book your ticket(s), please click here.
All prices include pre-lunch drinks, a three course meal and wine, or non-alcoholic alternatives.
For further information, please contact ElviraB@isba.org.uk.
Book now
Cost for members
£175 + VAT


Cost for non-members
£240 + VAT
Location


Sheraton Grand London Park Lane
Piccadilly
London
W1J 7BX
United Kingdom