Following the success of RESET 2021, our first joint industry conference with the Advertising Association and the IPA which attracted over 700 attendees, we are uniting once again to host RENEW 2022 on January 27 at the Odeon Luxe Leicester Square, London.
RENEW is a unique opportunity for the entire UK advertising landscape to come together, in-person and online to explore what advertising needs to do meet the challenges of this decade and how the industry can help the UK succeed, domestically and on the world stage.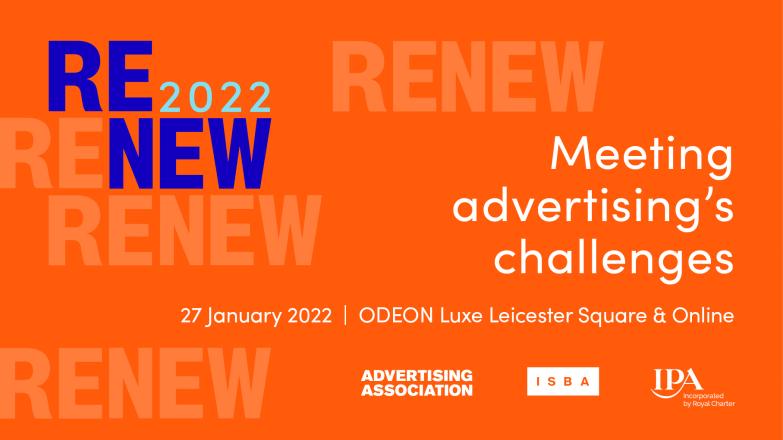 RENEW will take an informed look at the decade ahead from three vital perspectives:
• Responsibility – what are the new expectations of advertising emerging as this new decade unfolds and how does advertising answer these?
• Experience – how is the advertising experience changing with advancements in technology and what will this mean for the ways advertising can connect with the public?
• Action – what are the critical areas where we need to see advertising make rapid progress and how can every advertising professional help to make a real difference?
A heavyweight line-up of speakers from the business, political and advertising landscape will join the associations' three Presidents to shape the industry's focus for the decade ahead.
More details coming soon.
Book now
Cost for members
In-person £155 + VAT; Online £65 + VAT


Location


ODEON Luxe Leicester Square
22-24 Leicester Square
London
WC2H 7LQ
United Kingdom