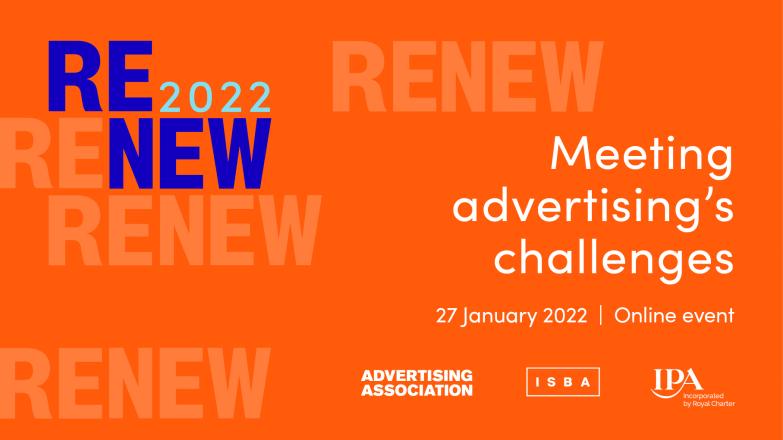 Following the success of RESET 2021, our first joint industry conference with IPA and ISBA which attracted over 700 attendees, we are uniting once again to host RENEW 2022 on January 27 online.
RENEW is a unique opportunity for the entire UK advertising landscape to come together to explore what advertising needs to do meet the challenges of this decade and how the industry can help the UK succeed, domestically and on the world stage.
With a guest list consisting of the combined members and wider networks of the three organisations, RENEW offers a unique opportunity to meet senior representatives across the breadth of the advertising ecosystem.
SPEAKERS INCLUDE:
Nina Hossain, Broadcaster and Journalist
Julian Douglas, President IPA & International CEO & VP, VCCP
Alessandra Bellini, President, Advertising Association; Chief Customer Officer, Tesco
Peter Duffy, President, ISBA; CEO, Moneysupermarket
Nadine Dorries MP, Secretary of State for Digital, Culture, Media and Sport
Shez Iqbal, Director of Publisher Partnerships, Criteo; Mentor, MEFA & BFS
Kathryn Jacob OBE, CEO, Pearl & Dean
Seb Munden, EVP & General Manager, UK & Ireland, Unilever
Kate Waters, Director of Client Strategy and Planning, ITV; President, WACL
Andrew Lowdon, Director of Agency Services, ISBA
Kate Williams, Head of Diversity & Inclusion, Publicis
Zaid Al-Qassab, Chief Marketing Officer and Inclusion & Diversity Director, Channel 4
Nicola Kemp, Editorial Director, Creativebrief
Lara Naqushbandi, Director, Lifestyle Retail, Google
Anna Lungley, Chief Sustainability Officer, dentsu
RENEW 2022 replaces the Advertising Association's LEAD conference and ISBA's Annual Conference in the 2022 events calendar.